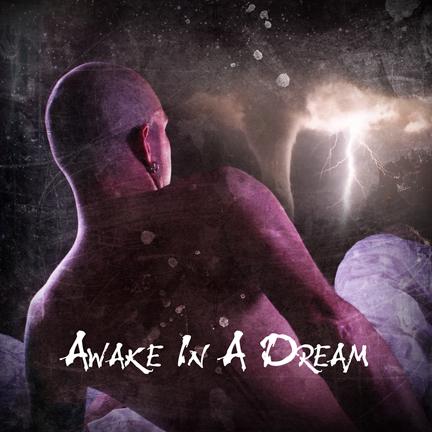 Fully Awake: AIAD Reaches for the Dream
Ever drifting down the stream –
Lingering in the golden gleam –
Life, what is it but a dream?
—Lewis Carroll

When asked about the significance of his band's name (Awake in a Dream), singer Jeromy Holding gave two answers. "To achieve your goal," he said, "first you dream it; then you do it." He also said, "And I live in a dreamworld."
Awake in a Dream is a five-member alternative-rock band. Along with Holding are guitarist Dave Mavis Senesku, drummer Lonny Pasilias, bassist Murv Douglas and other-guy Brian Leigh Peyton. The band's self-titled album consists of seven songs: anthems, ballads and full-on rockers.
Holding has an eclectic list of musical influences—including the Beach Boys, Duran Duran and Metallica—and his bandmates bring other interests to the table. Together, they create music that is melodic, catchy and just plain rockin'.
Take "Oblivion," a song that highlights the strengths of each band member. It has an active bass line, a driving drum beat, an aggressive guitar and cooler-than-cool vocals. The first lyric tells us, "I've danced with lepers, and I've dined with swine." The song has a hint of hellfire. You can imagine it playing over the end credits of Dawn of the Dead or some other post-apocalyptic movie.
"You Bring Me Down" is another rocker, this time with a slow-burning rhythm, wah-wah guitar and tough lyrics. It's the kind of song you'll want to blast after a hard day at the office. "When We Were High" is of a similar mold, in that it's a rock song with a message for some offender, in this case, a past offender, whose "twisted truth" will not be missed. "The Wrong Way" is also in this vein, yet this song comes after the rage has passed. The music is mellower, and the lyrics suggest that the offended party has forgiven but not forgotten.
Three rock ballads round out the playlist and lighten the mood. "Fall in Love" is an anthem that encourages the listener to do just what the title says. Also anthemic, "Free as a Burden" has a nice synth intro and shows the Duran Duran influence. "Bridge across the Distance" delivers a hopeful message: it may still be possible for an estranged couple to reunite after many years.
The songs on Awake in a Dream offer both sides of the coin—you've got your rockers and your ballads—while remaining cohesive. Intentional or not, there's something pleasantly yin-yang about this collection. With this effort, AIAD is on their way to living the dream.
M.J. Hamada
Writer, Editor, Music Connoisseur